Hey Sweeties
♥
♥
!! HEY HEY HEY!! I'm so happy now and finally I done all my papers! I finished and suffered for 2 weeks! So stress this semester and guess what!?!!?!? I just done my last paper yesterday then once I step in my room I saw a
parcel
on my bed
♥
! OMG I don't even know who sent me the parcel because I got no time to do any purchase online NOT EVEN online shopping due to my exam :'( Plus, I just done my hair , nail and facial today! I'm so tired because I rush everything within this 36 hours!
Thanks god
♥
♥
I'm able to get myself a nail polish and facial because my mom booked it for me since last week! Mummy always know I will never make any appointment before I go to any shop! Yea,
continue my topic
:3 So I asked my mom did I buy anything online ? LOL I'm totally blur!
I open it up immediately ~ I didn't even look at the sender detail just open it and I saw a rectangular box with pink color ! I KNOW !! It's a
MIVVA BOX
♥
♥
! OMG They are just so sweet! Thanks again to all mivva box members for sending me this~ This was the 2nd time I received the mivva box! This is just like an earlier
Valentine's Day present
from them
♥
♥
♥
!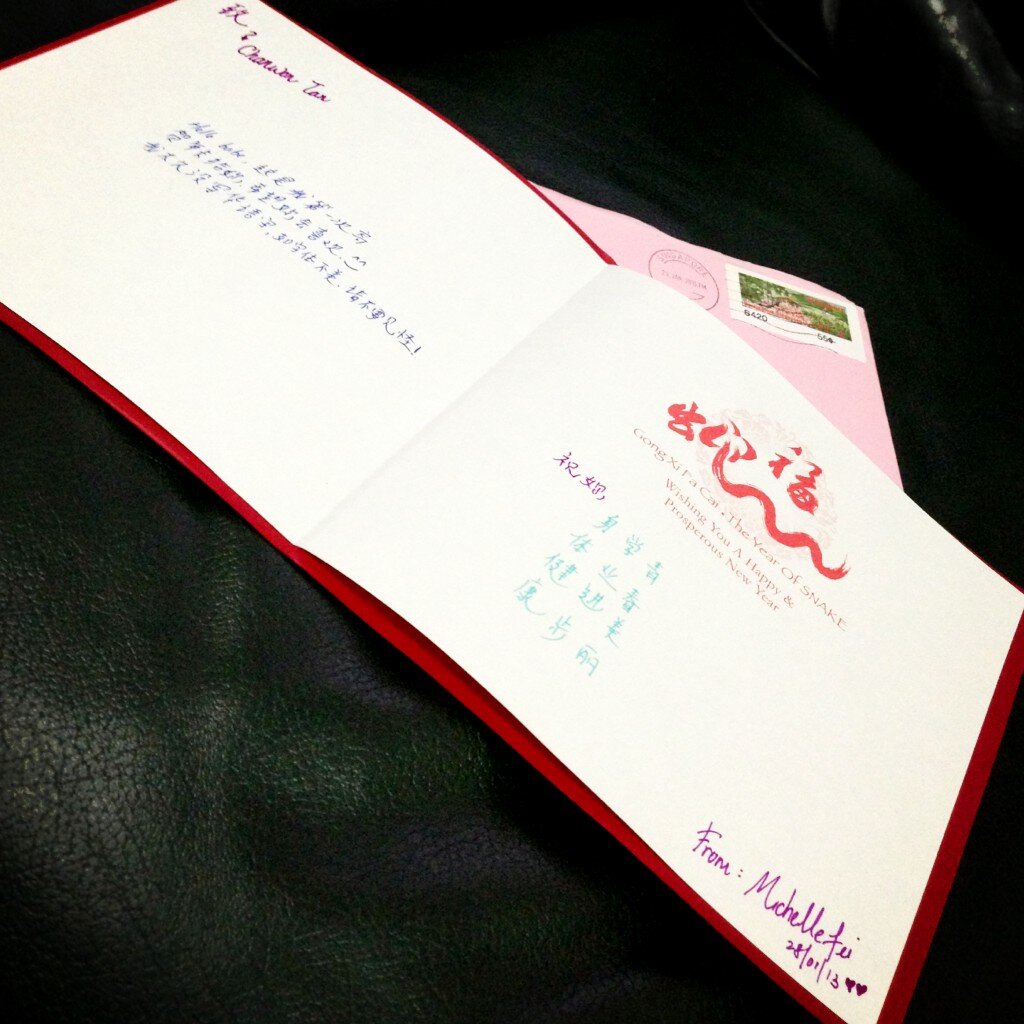 I'm really happy
♥
♥
! Everything is just soooooooo nice to me~ it's the same day that I received my very first 2013 new year card all the way from sg! Thanks
Michellefei
♥
♥
:3 I received everything on the same day! I'm just so so thankful and soooooo happy + DONE MY EXAM! hahahaha I miss all my readers! Once I done my exam I immediately snap photo and blog it today :P *wink
I think I should continue for the
cutest valentine's beauty box from mivva.com
♥
:P
OMG!! So sweet my dear
♥
:3 This is how it look like once you open the feb box ! I love the design of the greeting card especially the combination of the
pink
and
blue
!
Mivva always know what we want
♥
! But it's not just the nice design of the box and greeting card!
The pink flora accessories also included
♥
♥
. I didn't purposely go and get one and put on it but it's included on the mivva box!
I'm so exited and can't wait to know what's inside but I still can't control myself to read every single word which wrote by
mivva team
:) Just so sweet and pink! Awww
♥
♥
♥
really a sweet valentine's box which suitable for everyone!
As usual there are some vouchers and product brochures included and can you spot the red ang pao behind?! HAHAHAAHAHAH wink wink* Oh yea for your information Mivva Reward point coming real soon
♥
♥
♥
! I can't wait for it ~
Step by step capture the photo to show how it look like! HAHAAHH
♥
[happy kid face]
*
♥
Surprise
♥
* I wonder why mivva always know what I need and what I want :'( I'm been busy for almost 1 month and my toner left few drops only -.- Now I can save my money and no need to buy a new one and + I need a natural color lip stick for the coming CNY! You know what I want !!
So touching
♥
♥
~
Closed up photo
♥
Product Included :
♥
Beautymate Purifying & Brightening Nano Toner
♥
Paul Penders Natural Cream Lipstick
♥
Skin79 White Reviving Miniature
♥
Nature's Lab Refreshing Body Whip
♥
Murad Vitalic Pomegranate Exfoliating Mask
+ Additional Pink Flora accessories
Another photo :)
I'm really enjoy for that moment
♥
♥
The moment I unbox , the moment once I saw the greeting card , the moment I'm surprise with the products! I don't know how to express my feeling here :P You will know it once you got their mivva box!!
♥Beautymate Purifying & Brightening Nano Toner
♥
RM49.90 for 120ml
This is the new toner I'm using currently! Beautymate :) I never use it before but I tried their mask before and bought total more than 10 box during my taiwan trip! Left 3 box now so I'm looking forward to try out their products too since their mask is not bad.
This toner is so special for me as it absorb really fast if compare to the previous toner I used. It contains Gentiana Lutea Root Extract & Black Pearl Extract which use to ensure optimal skin condition. Other than that it keep your skin continuously hydrated and seal in moisture against outside influences!
I always tell my readers to keep their face MOISTURE all the time
!!
It's exactly the standard size which sell at watsons! OMG saved my money again! :)
This is what I did but still I have some problem with my face :'(
face speckle/mini spot start to
appear on my face recently :'( Guess it's time to use some sunblock !! I'm always so lazy to apply sunblock! I hope the coming mivva box will appear some sunblock protection products for us
♥
♥
:)
♥Nature's Lab Refreshing Body Whip♥
RM69 for 250ml
This is a very light and freshly scented natural whip with Shea Butter , Cocao Butter , Grapeseed & Chamomile extracts which can help in
moisture and nourish
your body every single day! Wooohooo it's really
so light and not oily
♥
as well :)
I dislike sticky type body whip :X How about you?! If you dislike sticky type too then you can try ~ This body whip is non sticky too!! It's most
suitable for the hot & humid summer climate
♥
♥Paul Penders Natural Cream Lipstick
♥
Rm79.00 for 3.5g
OMG! This lipstick is amazing I'm gonna try it soon! Maybe on the first day of CNY~
Teehee
♥
:) Just read from the product descriptions it's made with LevensEssentie Gold which is a 100 years old , holistic extract made from
22 organic herbs
♥
♥
Exactly!! it's from natural plant oils without chemicals! So you wont worry about the color of the lipstick will left on your lips and darken the color of your lips because it's free from artificial colors and chemical dyes
♥
! Can't wait to tryyyyyy yoooo~~
♥Murad Vitalic Pomegranate Exfoliating Mask
♥
Rm16.50 for 7.5ml
Like normal mask do but this added with providing instant smoothing and hydrating benefits.It balance the skin and create a complexion that is fresh , clear , smooth and bright which suitable for dull and dry skin! I should share this with my mom because my mom's skin is quite dry compare with mine which is normal
♥
:)
♥Skin79 White Reviving Miniature
♥
Solution RM90 for 30ml / Softener RM67 for 150ml / Emulsion RM72 for 150ml
Last product inside the mivva box! I saw this product from Sasa last time. It's a famous hong kong artist who introduced for us! It give a normal clean & clear skin for full skin and contains international patented that s
oothes the skin and revive your healthy skin
as soon as possible.
It's as small as a sample type packaging so I guess you only able to use it about 1-2 days!
But overall I'm satisfied with the products in this feb box ! I mad love with the HUGE toner and the natural lip sticks! Thanks Mivva and I got another great chance to tried out all new products <3 Hearts
♥
Last photo before I end with my post! HAHAAHAH & Thanks for the
love shape marshmallow
♥
:) I'm loving it and I'm gonna pick some products from mivva box for you sweeties!
I'm gonna give away some of the NEW products which I pick from mivva box and additional gift which might surprise you [5-6 items]! What you need to do is just simply answer my Question with the comment on the bottom of this post & share it on your facebook tag me so that I can get back to you easily :) Remember to publish the post if not I can't see it~
♥
Answer what you think about me and why you want
~
& I will choose it randomly by a random generator like the previous giveaway :)
So stay tuned for it I will pick the winner on
14 Feb 2013
! Valentine's day :P
I will inbox your facebook account for your receiver's name , address and phone number!
Don't missed the chance to get a lovely mivva box from me
♥
♥
♥
! I will pay for the postage so don't worry ya :)